Description
Cooling Vests
Personal Cooling Products are now the only independent supplier of these remarkable vests worldwide. The manufacturers are now solely supplying the military.

Heat stress is the enemy of industrial safety. We provide a simple, effective answer to heat stress management. This is simply the best cooling vest on the market.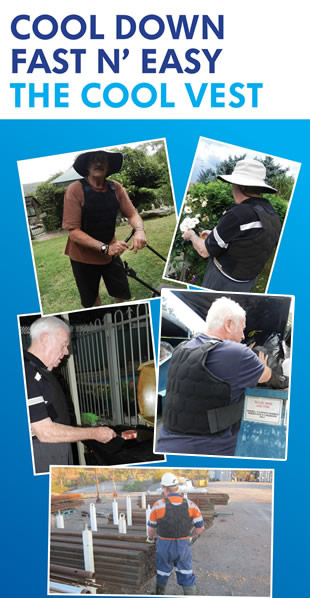 Cooling Vests…Why should I use a Personal Cooling Products Cool Vests?
Heat stress causes slowed reaction time, reduced energy, difficulty with coordination and attention, weakness of muscles, reduced strength during heavy physical exertion and loss of comfort doing normal day to day activities.
In a work environment, this may result in reduced safety, risk of injury, decreased efficiency and overall loss of productivity.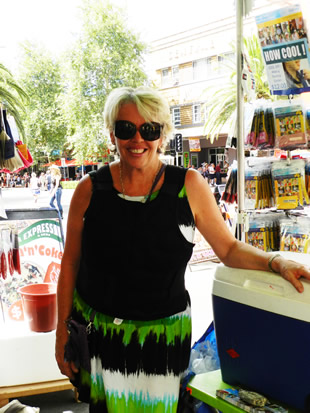 How do they work ?
Personal Cooling Product's Cooling Vests are designed to keep your body's core temperature within safe levels during physical exertion within high-heat environments. They are comfortable to wear without any restriction of movement.
The Personal Cooling Products Cooling Vests uses hexagonal cooling pouches containing patented Exotherm® Endurance technology which solidifies at a higher temperature than water. This means it takes longer to melt, exchanges heat at a more comfortable temperature, and can be recharged quickly.
Simply place your cooling vest over your head and adjust the straps to fit comfortably.
You will immediately feel the cooling effect. When the Exotherm® melts, it changes colour from white to clear. Your vest will work to cool you so long as there is some white Exotherm® in the hexagonal pouches. When you have finished with your cooling vest, or the hexagonal pouches are all clear, remove your cooling vest and recharge it.
Recharging is simple. You can place it flat into a fridge for about 20 minutes, leave it in an air-conditioned environment for about 40 minutes or submerge it into a large tub/esky of ice and water for about 15 minutes.
The size of the contact area is a limiting factor in how effectively any cooling product can draw heat out of the body. Personal Cooling Products Cooling Vests cover the torso – front and back – for maximum heat extraction. The amount of cooling time each individual will experience using the Cooling Vest will be a variable of ambient temperatures, workload and personal physiology. It is for this reason we do not specify a certain time frame, but you will be more than pleased. We recommend you read the testimonials we have received and the test data we can send to you to gauge expected time frames.
Why Not Just Ice?
For years, people have relied on ice for everything from treating injuries to cooling off from the summer's heat. While it is both cold and readily available, ice has a major problem – it's too cold. It's like using a blow-torch to dry your hair – it might work, but if it is used too long it will burn, because its temperature is just too extreme for the job at hand.
In fact, US Military testing has shown that over-cooling the skin can cause the body to close off its capillaries, blocking the body's natural ability to expel heat and compounding heat stress. Because it self-regulates to the optimal temperature for body cooling, the Personal Cooling Products Cooling Vests creates a comfortable microclimate around the body.
When it's hot, we should all play it cool…
Personal Cooling Products Cooling Vests were designed initially for keeping construction workers, mine site workers and factory workers cool during demanding work and exposure to excessive heat. They are perfect for underground mining or workers required to wear encapsulated garments.
When we get too hot or too thirsty, we all become irritable, frustrated, impatient and careless. We get in a hurry, our "clear- thinking" evaporates and accidents may happen. Personal Cooling Products Cooling Vests are ideal in enhancing the well-being of workers in a wide range of applications from warehouses to construction, landscaping, roofing, roadwork, metal working, welding, paint shops, fire rescue and more.
These same Personal Cooling Vests can be used to provide heat relief while gardening, relaxing outdoors, playing sport, cycling or just about any other outdoor activity. Personal Cooling Products Cooling Vests have also been used to benefits for those with difficulty regulating their body temperature due to age or physical issues. These include older persons, children with conditions such as Ectodermal Dysplasia or Crisponi Syndrome, or people with Multiple Sclerosis.
Our Cooling Vests conforms to the body so well it is comfy even under motorcycle racing body suits. In fact, protective outerwear actually enhances the Cooling Vests effectiveness, by insulating the vests cool microclimate from the warm outside environment.
How do I care for my Cooling Vest ?
Wipe it over and hang to dry. Your Personal Cooling Products Cooling Vest is not affected by humidity. You will never have to worry about mould. With proper care your Cooling Vest should last for many years. There is no limit to the number of times it can be used with no loss of efficacy.
Please note these important details:
This product may be placed directly on the skin without fear of frostbite or soft tissue damage, although most people wear their Cooling Vest over a singlet or a T-Shirt. The colour of the Personal Cooling Products Lightweight Endurance Cooling Vest will always be black. Please note that your Hi Vis gear must be worn over the top to ensure personal visibility.
The Cooling Vest is not made of a material that is spark safe. If you are working/playing in a situation where there is the likelihood of sparks, please ensure you wear the Cooling Vest underneath your protective clothing. This also makes the Cooling Vest stay cleaner for longer as well.
Important Information Regarding Sizing:
Large: In this model, the front is a small panel while the back is an X-large panel. An elastic strap velcros from the back panel to the front panel as shown in the image. Horizontal width is 41cm across the torso of one panel and 50cm across the torso for the back panel, making it 91cm across both panels. This would be the tightest fit if the straps have pulled it totally together. However the elastic straps allow for an extra 15cm of expansion. This leaves the sides open for freedom of movement. Vertical length is 43cm from yoke below neck to bottom. The weight of the Cool Vest is 2.2 kg.
Sizing Tips: Remember to adjust the elastic straps on the vest so the vest is snug on the body. You have to think of the front and back of the vest as two separate pieces joined together by the elastic strap. The vest should sit high over your heart. If you drop your chin onto your chest, there should be a 3 finger space to the top of the vest if you are wearing it correctly.
Enjoy Relief From Summer Heat With Our Cooling Vests in Australia
Do you find working in your garden during the scorching summer months in Australia unbearable? Do you work in a sweltering environment and find it difficult? Or are you keen on outdoor sports but avoid them during the hotter seasons? If so, you'll be pleased to learn that our ice vest is the perfect item to help keep you cool in a variety of high-temperature settings or environments.
How Our Cooling Jackets Work
The primary function of our ice pack vest is to keep your body's core temperature at a safe level as you work in exceedingly high temperatures. You will find this vest comfortable and easy to wear, and you will still be able to move freely. Another benefit is that your vest is quick and easy to recharge.
Each vest is made with hexagonal cooling pouches. These pouches hold Exotherm® Endurance technology, designed to solidify at a higher temperature than water. Unlike ice, this takes longer to melt. As long as the Exotherm® remains white, your vest will keep you cool.
Once the pouches are clear, you will need to recharge your vest. To do this, all you'll need to do is lay it flat in a fridge for twenty minutes, place it in a tub of ice and water for fifteen minutes, or leave it in an air-conditioned room for about forty minutes.
One of the reasons that our vests work so efficiently is that they cover both the back and front of your torso – this allows for optimum heat withdrawal.
The vests' cooling times will vary, based on various factors: how hot it is, how much you are exerting yourself, as well as your physiology.
What You Need to Know About Our Cooling Vests for Workers
Our original product was a cooling vest for men, such as factory workers, mine workers, and construction workers. Since then, we have improved and adapted it for use by many people in various settings. The innovative cooling pockets used in the design of each vest will help keep you cool in some of the hottest environments.
An important thing you need to know about our vests is that they are straightforward to clean and care for. After wearing it, all you need to do is wipe it down using a soft, absorbent cloth and then hang it up to dry.
It makes no difference if you live in a dry or humid climate – your vest will work equally well in both. This is helpful because you won't need to worry about your vest getting mouldy. In fact, if you care for your vest properly, it should last for several years without any loss in effectiveness.
Not only will these vests be beneficial if your work environment constantly has high temperatures, but you can also use them while gardening or playing sports. In addition, our vests have also been helpful to older people or those with conditions such as Multiple Sclerosis or others who find it challenging to regulate their external body temperature.
Why Personal Cooling Products Is Your First Choice for Cooling Vests
Our cooling vests are so effective that you may be interested in the other cooling products we offer—these range from cooling neckties to pashmina cooling towel wraps and chill sleeves. Our cooling products are versatile and suitable in numerous situations, whether your work environment is hot, you are recovering from severe burns or you need to keep cool during sporting activities.
We are constantly on the lookout for the most recent innovative Australian made and designed products to ensure that we continue keeping you comfortable. In addition, we aim to offer products that provide cost-effective personal cooling alternatives to running fans or air conditioners for extended periods.
We would love to hear from you if you have any questions about any of the available cooling products or if you'd like to find out more about placing an order for a particular item.