Description
Cooling Hat – Ladies Cool Hat with Magic Cool Pad
A special cooling hat just for the ladies. This cooling, fashionable, versatile hat is the perfect choice for summer. It also includes a free magic Cool Pad valued at $15.00.
Colours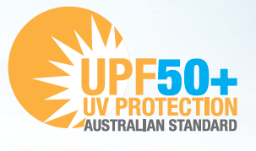 Cool…..stylish…..versatile…..just like you !
Be fashionably sun safe this summer with our stylish Ladies Simple Cool Hat which has been especially designed for the women of Australia. This versatile popular hat is fully shape-able, crushable, machine washable and will last for ever!!
Knowing that women like different looks, this beautiful cooling sun hat features a unique kettle style slanted brim that can be styled a multitude of ways. Wear it slightly turned up all the way around, slightly turned up one side while turning the other side down, or down all the way around for ultimate protection. The crown will stretch so that you can wear the Ladies Simple Cool Hat even with all your hair up inside it, or over a hair clip or ponytail.
Pin a bow or floral decoration on it. Wrap a chiffon scarf around it. Or leave it unadorned. The choice is yours.
By providing simple & effortless styling, the Ladies Simple Cool Hat will become a timeless staple in your wardrobe.

Functional but stylish women's sun hat combines practicality with a dash of glamour.
Easy care is uppermost in women's minds when buying a sun hat. Squash the Ladies Simple Cool Hat in your bag and, it will come out perfect. Want a white hat but worried about keeping it clean. Toss the Ladies Simple Cool Hat in the washing machine.
In researching before producing this hat, ladies told us they wanted the perfect fit. The Ladies Simple Cool Hat comes in two sizes and has an adjustable elastic toggle as well for that perfect fit.
Perfect to wear on the beach, at the pool, or with your favorite summer outfit. Wear it to the races. Wear it in the great outdoors while gardening. Wear it hanging out by your favorite body of water. Wear it traveling around our great planet. Make this exceptional wide brim style your favorite summer hat for excellent all day long cool sun protection.
As the temperatures are heating up and the sun is getting stronger it is even more important to shield delicate skin from the potentially harmful rays of the sun. Because it shades so well, the Ladies Simple Cool Hat is an important protective part of a woman's line of defense against skin cancer, premature aging and other damaging results from the sun.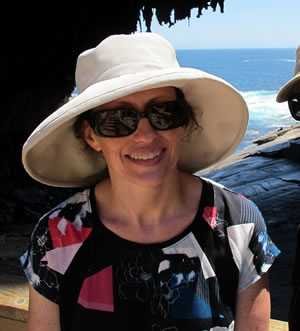 It cools in two ways. The crown, while being SPF50, is also fully breathable. The hot air can escape and the breeze flow through.
A Magic Cool Pad, valued at $15.00, which can be inserted into the pocket in the crown of the hat to cool you for hours, comes FREE with your Ladies Cool Hat.
FEATURES
The Ladies Cool Hat is simply the only hat you will ever need…
Packs flat for travel… does not take up much room.
Throw it in the washing machine.
Breathable cool and airy mesh crown… you will stay cooler longer.
Enjoy SPF 50+ sun protection in this wide brim women's sun hat.
Interior wicking sweatband… keeps you cooler longer.
Styled for leisurely fashion… but will withstand any adventure.
Comes with a Free magic Cooling Pad.
Durable, lightweight and incredibly comfortable.
Roll it up and toss it in your bag… will never wrinkle.
Casually classy look… classically ageless
Adjustable drawstring guarantees a comfortable fit.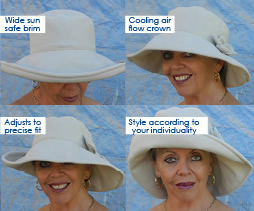 COLOURS 
Navy and Natural.
SIZES
Small – 55-58cm
Medium-Large – 59-61cm
CARE
Throw your Ladies Cool Hat into the washing machine.