Congratulations on such a versatile product.
I love that the cloth can be used reused and does not require refrigeration
I ordered the M Cooling Cloth because I experience heat sensitivity sensory issues as an Autistic person. After wearing the cloth for a few hours, I can confidently say it helps me stay cool and it was worth every cent. In particular, I love that the cloth can be used reused and does not require refrigeration. Just add water!I can imagine a cooling cloth might also be helpful for people, with chronic illness whose symptoms include heat intolerance (e.g. ME/CFS, long Covid, MCAS, dysautonomia, POTS, chronic pain, fibromyalgia, EDS and diabetes).
Melanie Foulkes – 14/02/2023
---
What a great and innovative products……
I always travel with my cooling products like the MCool Cloth and the Chilly Pashmina.
You simply wet it, wring out the excess water and drape over your shoulders or nech when it's scorthing hot to dissipate the heat instantly. It seem crazy to add another layer on when you'rd hot but towel is amazing, instant cooling effect! It acts also as a barrier UV protection! I have 2 sizes in various different colours, the bigger one is great for as described above. The smaller I use as a headscarf/headband – both are light weight, and you can fold down to fit easily in my bag. Great colours that are easy to match or stand out. Highly recommend.
Debbie – 18/01/2021

---
Enjoying my bike riding with your products……
I have been using the Chill Sleeves and Multichill which I purchased at the end of last year.
As a bike rider I have found that they perform excellently keeping my arms, head and neck cool while riding long distances in the summer heat. I also no longer have to apply greasy sunscreen to protect myself which makes riding more enjoyable. The amazing part of the product is its ability to cool via evaporation which sets it apart from other arm protectors on the market. I have no issue with recommending this product to anyone who is looking for a sunscreen free alternative during the summer months.
Evan – 22/09/2015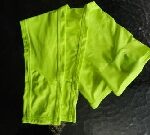 ---
Cool Vest works a treat !
Just a short note to tell you that the personal cooling vest I used last summer is a wonderful product. They keep your body temp down oh so comfortable in 40 degree temps.
I recommend them to any one who is working out in high temperatures, or for any activities where you can have heat stress. Thanks again for a top product.
Ken – 16/09/2015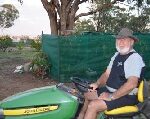 ---
What a hat ! I love the Ladies Cool Hat !
In a bit of a pre-holiday panic, after weeks of internet searching I bought a Ladies Cool Hat. I didn't buy it for the cooling pad, just for the large sizing. Being in WA I was worried about getting the parcel in time but it arrived within the week. It was the first hat that has ever fit me. I took it on holiday to Kangaroo Island and it withstood 30-knot winds on a cliff near a lighthouse. I wore it for two weeks and was so happy with it! It stopped me from getting earaches in the cold and the wind. I did not get sunburnt, which is lucky because I had an allergic reaction to the new suncream I was using on my face.
I was able to wear your hat on top of my big head and boofy curly hair. I can even wear a pony tail under the hat. I also stuffed the hat into a handbag and squashed it into my luggage. I have brought it home and washed off all the dirty marks and it looks brand new ! My Mum bought a Ladies Cool Hat soon after trying on mine! It will join her on her caravanning adventures. Thank you Personal Cooling Products !
Karli – 01/09/2015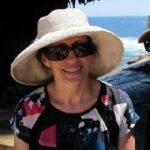 ---
How cool is Frank Fibbonacci… !
Here's a pic of me at a gig doing my paparazzi character, Frank Fibbonacci. I was wearing my Cool Vest under my trench coat, suit, shirt and tie and on top of a cotton T-shirt. I wore the vest for 5 hours – both to and from the gig and for three hours of performing. I had started with it from the freezer and by the time I got home all the gel had liquified except a few bits.
The most notable thing to me was that normally when I do this character, my t-shirt and shirt are soaked through by the time I finish, with all the layers I wear plus being in a crowded room as with this gig. The difference with the Cool Vest was the comfort I felt and when I took the vest off there was only a little moisture under my arms and nowhere else! As you can see from the photo, the vest didn't add enough bulk to be noticeable and the little bit of extra weight was more than offset by the reduction in heat fatigue. I am looking forward to using the Cool Vest when I do Santa Claus and for other active characters and will let you know when I give it its next outing. Thank you for providing such a great product.
Charles – 24/06/2015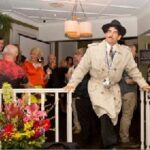 ---
How to be as cool as Elvis…
As an Elvis tribute artist, working in the heat can be devastating. But thanks to your awesome personal cooling products I can perform all day without overheating. The Cool Cloth is stylish enough to be part of my Elvis costumes. My clients get an amazing performance because I am so cool and giving 200%. I love my personal cooling products !
Rick – 24/06/2015

---
I even sleep with my Big Chill… !
I was so wrapped in my shoulder wrap that I took it to bed and slept with it and was beautifully cool all night long. I had the best sleep ever. Do yourself a favour and get one.
Sue – 24/06/2015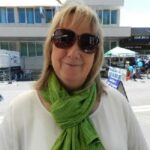 ---
As a Traffic Controller, I cool down with Personal Cooling Products…
I am a traffic controller. I use Cool Hats & Cool Cloths to keep me cool while I am on the road.
It is so much easier to work when I am feeling cooler.
Maree – 24/06/2015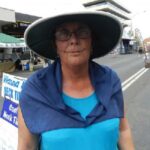 ---
My Chemo treatment is not so bad now…
I am going through chemo and have been getting terrible headaches in the heat. My mother bought me a Multichill, and I love it. As soon as I put it on, it was so cooling and relieving. The chemo is affecting my eyes which burn continually. Since wearing the Multichill, my eyes are fine. I also got a SunGuard to accessorize my looks. It is fantastic as well. So soft. Then I got a Cool Hat. I am now cooler than Elvis !
Rachelle – 24/06/2015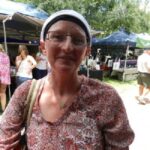 ---
My heat-affected daughter enjoyed Spain thanks to you..
We're back from Spain and had a lovely time!
Many thanks to your products, myself, and my young daughter, Rebecca, managed to stay cool and comfortable 🙂 I even took our "spare" cool cloth scarf (just "in-case") and ended up giving it to our friend (whom we'd joined there) who's had cancer and can overheat easily and have "hot flushes" – he said it was a life-saver and asked for your website details! I may have to order more cool cloth scarves and other products for our next trips to Seattle and Mallorca in the next couple of months! The "spare" scarf was for my sister-in-law (who's also had cancer) so I'll have to order at least another one for her 🙂
Lesley – 01/06/2015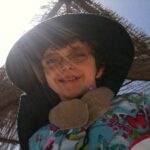 ---
Enjoying Tamworth Country Music cos of the Cool Cloth…
his scarf has been fantastic in the 40 degree heat here at the Tamworth Country Festival. We could not have survived without it: morning, noon and night. Great product for use at home or camping.
Jan – 13/01/2015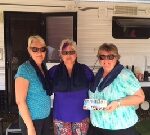 ---
How chilled is Santa ?
I have not one but two secret identities (well not quite so secret now!) and both of them involve (albeit very different, but equally thick) uniforms, in the height of the Australian summer. And I have a coronary stent and a tendency to high blood pressure. So overheating is a huge issue for me. Unless you want Santa to keel over mid Jingle Bells.
So using a selection of Personal Cooling Products this summer was the best Christmas present possible for me.
The first positive surprise were the Chill Sleeves which kept my otherwise unprotected arms cool even before being wetted, in the harsh seasonal sun. They also providing welcome extra hi viz on my mid afternoon school crossing duties. Equally lifesaving were the various wettable Neck Ties of which the extra thickness and Velcro fastening of the Super Cool N Safe was the most efficient. The hipster factor was definitely highest with the Cool N Safe Camo and the Cool Snake animal print: Leopards at Taronga.
My heart felt a lot more comfortable when the extremely helpful proprietress of the company, Kathie, explained to me that there was no necessity to put the ties directly around your neck straight from the freezer. The fridge is perfectly sufficient for them to work in reducing your body temperature and attendant discomfort, both quickly and effectively.
When you visit the website tell them Santa sent you. My great photo was taken by Rajen Pulai.
Henry – 18/12/2014
---
Cool and Amazing !
I recently ran an amazing race and we all wore red and white necktie coolers to match our team colour. But red and hot was not what we felt.
It was a very hot day and we ran about 15km and, every so often, we would pass a tap or bubbler and wet our necktie coolers. I could not believe the difference they made. Not only did we feel cool because we had a merchandise sponsor with our necktie coolers, but we did not tire as fast as others. Plus we reckon we looked pretty cool all round.
Sue – 04/12/2014
---
I was the ONLY cool person on a day when it was over 40 degrees !
Recently I was at an athletics event and the weather forecast was expected to reach a mere 40 degrees in the shade.
It actually reached 45 degrees, that day out west, and at Homebush it was pushing that ridiculous temperature as well. I packed a Big Chill Cool Wrap Towel with me and it was incredible. In fact I was pleasantly surprised how cool it kept me in addition to protecting me from the sun by acting as a bit of a sun shelter around my shoulders. When I wanted to cool down further, I just took it off my shoulders and gave it a good shake.
I also noticed how the athletics officials were sweltering in the sun and had wet tea towels under their caps. I think that NSW Athletics or Little Athletics NSW could consider investing in the cool hats for officials standing in the blazing sun all day!
Sue – 01/12/2014
---
I even wear my Neck Cooler to bed !
The Cohealth Active Connections Program is a support program for isolated and/or vulnerable public housing residents who are over 55.
The program aims to improve their health, well being and social connection by:
-assisting them to maintain stable housing and independence,
-ensuring they have access to the appropriate supports and services
-involving them in relevant social/community activities.
We provided Personal Cooling Products Cool Snake neck coolers to clients during the Melbourne heatwave of 2014. They were well received by clients and even by staff! One client stated ?I really like them and wore it everywhere. I went even to bed when it was hot. Everyone should wear them.?
Cohealth – 11/11/2014
---
Even the Sustainable House like Cool Cloths…
Cool Cloth cooled me on a hot day……….almost as good as a cold beer on a hot day.
Michael – 11/11/2014
---
Personal Cooling Products Gives Back.
PARKES CHAMPION POST: 8 January 2014
Kathie Holt and her Personal Cooling Products have been coming to the Elvis Festival for years. And as a way of saying Thank You to Parkes, Kathie has donated $3000 worth of Cool N Safe Neck Coolers to the Parkes Rural Fire Service, as well as a Cool Vest.
"We were staying at the home of Ken Ladbury (who is with the RFS) and left a vest with him to trial, so that we could speak to RFS about them, " Kathie said. "When we got home in Sydney, fires had broken out around Parkes. As we watched on the TV and remembered our own bushfire here at Engadine where we lost half our house in 2002, we wanted to help."
"We introduced the Cool Cloth at Parkes last year and it was very popular and as we did well, we decided to make the donation – our way of saying Thank You to Parkes." RFS Captain, Scott Baker said he was overwhelmed by the generosity. "The cooler vest and neck coolers are used to keep body temperatures down during the busy summer months when we are fighting fires, " he said. "Donations like these keeps volunteers morale at a high level knowing that what they do doesn't go unnoticed both locally and in the wider community."
ChampionPost – 20/10/2014
---
MS Won't Stop Me Travelling ! I just take my Cool CLoth !
Having MS, I couldn't have taken the heat & humidity of the Amazon jungle, Brazil or the dry heat of Chile without my trusty 'Cool Cloths'.
While they can't take away the heat, they give me welcome relief, especially when travelling. Just a quick dip in water & a flick of the wrist, with NO refrigeration needed. I don't travel without them! ( I plan to see as much of the world as I can while I'm able).
Cheryl – 16/10/2014
---
Coolest Hat for My Hot Adventures
Walking in the Bungle Bungles in September, when the temperatures can reach well into the forties, there were 2 things paramount to my preparation……get an early start before the heat of the day, and wear my Adventurers Cool Hat.
The Adventurers Cool Hat is designed specifically to keep me cool and protect me from the baking sun. The wide brim and back flap are a must in these conditions. The real bonus with this hat are the crystals in the crown and back flap, that when dampened remain cool and make a tremendous difference in this sort of climate.
I also am an avid Kayaker. Kayaking in the Kimberlies I need serious protection from the sun and heat and the Adventurers Cool Hat is just perfect, keeping the sun and glare at bay. It also has a gel insert to keep me cool.
The light weight fabric is fantastic as it breathes and allows the air to flow. I won't go out on the water, or travel anywhere without my Adventurers Cool Hat. Thanks for the cool design!
Jan – 02/10/2014
---
Big Chill Cooling Wrap Towel is a BIG HIT !!
Recently I went to the Kimberlies in the far north west of Australia, and drove the Gibb Rd, making sure my husband and I walked all the gorges. Most of them take hours to walk to the waterfall and it is so hot walking there.
I had a Big Chill Instant Cooling Towel though, and it was my saviour ! I would stop and dunk it in the creek as we walked, wring it out and wrap it around me again. What relief from the heat ! It also protected me from the sun. I now carry it in my handbag so that it is close by whenever I need it. Hot flushes strike at any time !
I simply love my Big Chill Instant Cool Towel, and suggest you get yourself one too !
Summer will be here soon and I am going to lie it over me in bed each night !
Kathie – 08/07/2014
---
Keeps Me Cool While Cooking My Pizzas
I own Wood fired Pizzas. We attend outside events to sell pizzas. This can be a very hot activity, especially in the summer. January 1014 was a particularly hot summer. We were set up at Tamworth Country Music Festival and the heat was stifling. I discovered a new product called a Cool Cloth, and purchased one, thinking I will give anything a try in this heat. Well ?.in the 40 degree heat, it was nothing short of fabulous ! I felt really cool. I just kept dipping it into my esky throughout the day and it was heaven.
So fabulous? that I purchased them for all my staff and then spent the rest of the festival telling people where they could get one. We will be using it for everything ! I cannot wait to get home and get into the garden now, and not worry about the heat.
Herta – 17/04/2014
---
Icy cold and comfy as I work..
I own a Hawaiian Shave Ice stand which we take to outdoor events all over Australia.
Really hot days are great for business?. But we get so hot working in our trailer.
At Tamworth Country Music, when the thermometer was hitting high 30?s, I was shown the Cool Cloth.
You simply wet it, wring it and wave it I was told and I would be cool.
Guess what ? That is true ! They are great ! It made all the difference to me as I worked.
My clients kept asking me what it was, and I would send them off to Kathie to get one.
If you feel the heat, and are looking for a simple effective solution, then get yourself a Cool Cloth.
It is money well invested. It stays in my trailer ready for me to use.
Greg – 07/04/2014
---
Our Boys Love Super Coolers
Family Tree Care purchased Super Coolers for our employees as they are outside workers based in South East Queensland and ensuring their health and well-being at work is a priority.
The coolers were gratefully received, and work really well: keeping cool for over 24 hours. The fact that the crews can use these at whatever work site they are on, just needing some cool water to activate is a bonus.They have been mainly wearing the neck ties as bandanas, to keep the sweat out of their eyes. Great product with great results! www.familytreecare.com.au
Renee – 19/03/2014
---
Coolest Bloke on the Golf Course !
Having worked in the golf course industry for the past 20 years, and being exposed to the sun for 8-10 hours a day, I was looking for a hat that could not only protect me from the sun and keep me cool, but was also able to be used with earmuffs as I operate heavy machinery.
The Ultimate Workers Hat has been a perfect choice. It is comfortable, easily adjustable and provides great sun protection as well as allowing me to use my earmuffs. The cool pads, along with the Cool Cloth, are the icing on the cake. I put one cool pad in as the weather warms in the morning and then replace it with one out of the freezer in my break. I combine this with the Cool Cloth which somehow cools down by flapping it in the air and those hot summer days working on Chatswood Golf Course are a lot easier to face. GREAT PRODUCTS!!!
Matt – 11/03/2014
---
I recommend your products to my MS Clients
I have been trialling your cooling cloths with members of my family before recommending them to MS clients and I am very impressed.
Each person (one heavily pregnant, one English born, and another with menopausal hot flushes) have been thrilled at the effectiveness and endurance of the cooling, so I am excited to be now purchasing them for MS clients at MS SA and NT. Thank you for such a great product.
MaryAnne – 24/02/2014
---
My Staff Will Only Wear a Cool Hat !
My staff and I love the Cool Hats !
They will not wear anything else !
The Cool Hat is perfect for us in our outdoor jobs, keeping us cool and protected from the sun and very comfortable to wear while working. They are great: so durable, light- weight & washable. They are an essential addition to our uniform ! www.nextlevellandscapes.com.au
Mark – 14/02/2014
---
Great for cooling the whole family…especially the baby
The whole family got some Cool Cloths at the Tamworth Country Music Festival. We thoroughly enjoy them. They are the best thing to cool down the baby and keep him happy on a hot day. I always have them with me so that we can wet them and wave them and we are cool. In hot country NSW, the Cool Cloths are a godsend, Thanks!
Nola – 12/02/2014
---
Perfect for Gardening in the Heat
I bought your hat at the Elvis Festival in Parkes and planned to use it for bushwalking.
I am a very keen gardener and usually spend at least one day a weekend all day in the garden. Your hat is amazing. I love how the inside terry towelling trim collects all your perspiration. My head is so cool because it is in the shade but the top part of the hat actually breathes and lets the cool air in and the hot air out.
Being such a wide brim, it completely covers my head and neck: no more sunburn for me whilst in the garden. I throw it in the washing machine and it comes out looking brand new. Am absolutely thrilled with this hat: best hat I have ever bought, so versatile and easy to wear. Thank you for your amazing design and helping us keep cool so we can enjoy doing what we love outdoors.
Deanna – 11/02/2014
---
The coolest products in far north Queensland !
My husband and I love the very broad brims and neck flaps on our Cool Hats, as, on our pearl farm here in Far North Queensland, we work on or near the water so much and the structure of the hats cuts the glare and reflection.
I love the gel packs.
The Great Outdoors hat is excellent for our land-based activities because of the wide brim and light weight. It is easy to wear when I am gardening and my husband has been wearing it while building. The Adventurers hat is great when we are on the boat. The gel in the back flap actually helps hold the hat down when we are motoring.
I had the Cool Cloth on this morning I use it when I am working inside. We do not have air-conditioning here on the farm, as we use a generator for power for just a few hours a day. So the Cool Cloth is great when I am cooking and sweating it out. I really like how it keeps my shoulders and neck cool while I am working. Thanks for a really cool product ! www.torrespearls.com
Rusty – 24/01/2014
---
Look How Far I Can Walk Now !
I love my Cool Cloth Mummy bought me for my afternoon walks.
It keeps me so cool and refreshed. Before I got my Cool Cloth, I could not go walking in the heat. But now I can. Thanks Cool Cloths. Every dog deserves one ! Woof! Woof ! Jimmy Choo
Jimmy – 08/01/2014
---
Lake Macquarie Council Uses Neck Coolers in their sustainability programs.
Lake Macquarie City Council provides neck coolers to residents who join the "Bust Your Electricity Bills" Program. Entrants are advised to beat the heat and try the neck coolers, before they switch on their air conditioners.
Lake Macquarie City Council also provides neck coolers for the groups who register Eco Angel Clean-Ups to distribute to their volunteers. The Eco Angels Clean-Up Program provides support and assistance to community and business groups to conduct voluntary clean ups on public land. I personally use the neck coolers, as well as the cool hats, and am more than happy with them, and have no hesitation in recommending them to others.
Sandie – 18/11/2013
---
Your products help me greatly with my MS.
I suffer from MS and was looking for the best way to keep cool. I have been using Personal Cooling Products now for many years because they are the best.
Having tried other neck coolers I was looking for something that (a) gave a bit more and (b) did not have long droopy ends. The Super Cool N Safe is all that it is wider, so much cooler and lasts longer. The Velcro closure means it fits almost under a polo shirt collar. Love it!
I teach in Singapore and the Cool Cloth even cuts it there. I sit outside in the heat to have a meal with the Cool Cloth wrapped around my neck, crossed over and under a shirt. The blue looks sort of crevatte-like, does not make my shirt wet and all I have to do is take it off, wring it, shake it and put it back on. When it gets really hot (and I am not in public!) I wrap it around my head for some instant cool down ! Thanks Personal Cooling Products for the cooling relief you provide me.
Steve – 16/11/2013
---
How great is this SunGuard in my job
I work in the mines in WA as an electrician. The best thing I have started to use is the SunGuard.
It keeps out all the grime and dust that are everywhere. I breathe easier. My face is so much cleaner at the end of the shift. I can wet it and put it on and it cools me down. I do this especially when I ride my motorbike in the heat. Great product ! Thanks !
Mick – 14/11/2013
---
Your Cool Hat Worked Wonders in Nepal !
I recently when on a life-changing experience to Nepal. I was there for 5 weeks on a MOTO trip (Ministry of Teaching Overseas) through Avondale College.
A group of 23 of us travelled there and taught for 3 weeks and after we completed teaching, we were meant to trek to Mt Everest Base Camp but because the airport is on the side of a cliff at Lukla, the bad weather stopped us from flying out. So our lecturers decided we would do the Annapurna Base Camp trek instead.
It took us 8 days to get to base camp and back and the walk definitely was not easy! It was an incredible walk, and the Cool Hat came in to great use on the days where the sun was beating down on us as we walked through the Himalayas. Making it to base camp was such an overwhelming time as I had doubts I would make it. But I pushed through and got there and the photos of Annapurna South that I took, don't even do the mountain justice. The whole environment and atmosphere was incredible beyond words!
This picture was taken the day we left base camp. It was the best experience I have had, and I hope one day to return to Nepal and conquer the Mt Everest Base Camp!
Fiona – 01/09/2013
---
Every Grey Nomad Needs One !
We are dropping off a quick note from on the road to say how pleased we are with our Cool Cloths that we got from you at the Elvis Festival in Parkes.
Travelling through Central NSW and South Australia in January/February would have been hellish, except that we managed to keep our temperatures down with your amazingly fabulous Cool Cloths and Necktie Coolers.
Even Rhodie (our doggy) wears her necktie from the freezer on hot days and she loves it.
We pop the Cool Cloths on when we are on the boat, kayaking, fishing or walking and they stay cool for ages by just fanning them in the air !
I have also used mine to keep cool whilst driving by placing it over my legs and letting the fan blow on me. This works really well when the heat is stifling !
Thanks for such a cool product. We will tell everyone we meet as we travel around Australia they should get one !
Moira – 09/04/2013
---
What a difference you made to the boys in their wheelchairs !
Dear Personal Cooling Products,
The Australian Power Football Association would like to thank you for your support and your wonderful product, the Cool n Safe personal cooling neck ties, that you recently supplied us for our international event last January.
As an organisation that provides access to sport for severely disabled athletes who use electric wheelchairs, we often have to manage how best to provide a playing environment that allows our athletes the best comfort.
A majority, due to their disability find the extremes of temperature, both hot and cold, an issue when participating in sport and during their day to day activities.
You can then understand why it was such a wonderful moment to find how successful and appreciative the players were when we supplied them your Cool n Safe neck ties as part of their event welcome pack.
Not only were they a success in assisting with dealing with the extreme high temperatures experienced during January this year, your suggestion of the Cool n Safe neck tie with the Velcro closure was terrific, as it allowed easy access in putting on and removing, especially when in a wheelchair. In some cases the player was able to manage themselves instead of having to wait for assistance.
Our international guests from Japan who we were competing against, were also extremely appreciative of the coolers as they arrived on that Friday which was our hottest day ever in Sydney, when the temperature hit over 46 degrees Celsius !
I wish I could have been able to take a photo when we showed them how they worked and the instant relief they experienced, as the heat was something they were not quite ready for, especially arriving after leaving winter back in Japan.
A great product which we cannot rate high enough and your service and support were second to none.
Thanks again and I look forward to doing business again in the future.
Matt – 02/04/2013
---
ZERO SunBurn, So Cool and Great Fishing !
Hi !
Thought I'd take the time to send an email to say thanks to the guys at Personal Cooling Products for helping Team Hobie Fishing secure 4th place in the last round of the Gamakatsu Hobie Bream Tournament at St George's Basin.
We fished from 7am till 2pm and had zero sun burn by days end , all thanks to our Sunguard cool tubes!
We also managed to stay cool all day with our neck coolers that came into great effect during 30 degree heat!
Thanks guys ! These are so much cooler than my Buff !
Please find attached some shots of us on the water using your SunGuards !
Mark – 26/03/2013
---
Your products have been a life changer for my husband's MS
Your products have been a life changer.
My husband Terry has been diagnosed with MS for over 10 years and struggled with heat each summer, while we saw our power usage go through the roof trying to keep him cool.
3 years ago I found the web page for Personal Cooling Products Neck Coolers and started using them, each year ordering more as their uses became more and more apparent.
Now we would never start a summer without them.
October 2012, Kathie let us know about the Cooling Vests.
Terry was very apprehensive about them. How could they work when they are not frozen?Three hours after putting it on, he is a believer.
His body temperature was controlled even through it was in the upper 20s in the house.When the temperature hit close to 40, this last summer, he would wear his vest with a frozen Super Cool N Safe Neck Cooler round his neck.
It is peace of mind for both of us.
I have recommended it to all members of our Local MS Group, and we now offer them to local members who struggle with heat.
I even borrow his vest to wear when mowing the lawns. I team it with the new Cool Cloth, worn as a bandana, and would not think of doing the gardening now without them.
Thanks Kathie and Ken.
Chris – 20/02/2013
---
Cool Relief While Playing Baseball.
We bought the Cool Snake neck ties for our boys baseball team.
The ties have helped keep them cool while playing in the hot sun.
Great product !
Thank you.
Secret Harbour Pirates
Guy – 12/02/2013
---
The Cool Vest helps Owen with his Ectodermal Dysplasia
Our son Owen has a rare genetic condition called Ectodermal Dysplasia. The most significant aspect of this condition for Owen is that he is unable to regulate his body temperature due to his inability to sweat.
We live in Qld and as you may already know the weather can get fairly hot, and combined with the humidity, can be quite draining on any person that has the ability to sweat, let alone someone who does not sweat.
We purchased the HTF Exotherm Endurance Youth Vest from Personal Cooling Products in November 2012. Owen finds the vest comfortable and is happy to wear the vest over his shirt or under his shirt (directly on his skin). The vest provides cooling relief for Owen as he is unable to tolerate products that are icy on his skin, as this is equivalent to an average person jumping in a bath full of ice.
Despite Owen's condition he is very active and loves to play all sports (cricket, soccer, touch) and participate in outdoor activities (bike and scooter riding).
The vest has allowed Owen to run around and play outside longer with his friends without seeking the air-conditioned environment as often as he used to.
Victoria – 02/02/2013
---
Cool Cooks !
It definitely gets hot in our kitchen, and as caring employees, we want to make sure our staff are as cool as possible whilst working.
We got some of your Cool N Safe Neck Coolers at Country Music. We leave some in the fridge chilling and swap them over as they warm up. They are really effective and great value for money.
Thanks Personal Cooling Products for keeping us cool !
Michelle – 25/01/2013
---
My Cool Cloth worked a treat at the Australian Open
The Cool Cloth worked its magic at the Australian Open Tennis this year Kathie.
On one day the temperature got up to 40 deg C, probably more where we were sitting, but the Cool Cloth made it bearable. I was surprised to find how long it lasted before having to re-soak it in water.
I used it around my neck and at times laid it over my legs, it worked a treat. I will definitely be taking it with me to the Australian Open again next year.
Christine – 24/01/2013
---
Coolest hat in the Greek Islands
Dear Kathie
My Cool Hat has been successfully sea tested in the Greek Islands and Pittwater/Broken Bay with excellent results.
Comfortable, cool, good shade and good chin tie for security in a blow.
Circumstances prevented me testing my SunGuard at the snow last season, so the job was sub-contracted to my friend Peter Snowball (yes Snowball) who reported very favourably on its usefulness in preventing sunburn whilst skiing.
Thank you very much
Andrew Hassan
Andrew – 09/01/2013
---
How great does the New Cool Cloth make me feel !
I am a bowler at Windang Bowling Club in New South Wales.
I had a tracheotomy three years ago and I have to wear a permanent trachy to enable me to breathe. In the hot weather breathing is very difficult.
However I have discovered the Cool Cloth, which is available in a triangular shape as well as a rectangle. The Cool Cloth has been invaluable to me, as it keeps me cool and makes breathing easier. It is comfy soft to wear, and, as well as looking really fashionable and allowing me many different ways to wear it, it makes the trachy virtually invisible.
I can now enjoy my bowls. In fact today, in soaring temperaratures, I bowled all day and felt wonderful.
The Cool Cloth would be an asset to any bowler as it is so easy to maintain coolness and relaxation throughout a game. To be really cool, all you need is water and a hand. Wet it and wave it ! It will always be cool for you by following these simple steps. If you want to beat the heat I recommend the Cool Cloth for coolness and comfort.
I also have a Cool Hat. Wonderful product !
Thanks Personal Cooling Products ! I will be telling the world about your products and your personalised service.
Marlene – 06/01/2013
---
Cool Vest for MS Sufferers
BEAT THE HEAT. GET MORE OUT OF LIFE !
I must say your cooling vest was a life-saver for me on my trip through the humid South from Arkansas to Key West as well as the heat in TX, NM and Arizona. I travelled almost 7,000 miles on my motorcycle. I am so happy I made that trip.
My Doctor's only restriction for me taking this trip was that I could not get hot. Because of your product I was able to deal with that restriction and have the ride of my life!
I was able to trek around on foot in the humidity and heat of 95 F to 105 F wearing my cooling vest without any issues
My vest and I had our biggest challenge riding from Tucson to Yuma. Oh boy, it was hot. The temperature was 115 F outside and even hotter on us, as we were exposed to the hot wind and heat from the asphalt. We rode for 6 hours that day and would stop every 1.5 hours and get out of the heat and have a drink of water where I would pour ice water in my boots?. Had I not had your cooling vest to help maintain my core temperature, I would have had a big problem that day.
Because of your products and other assistive devices, those of us dealing with MS can pursue the dreams and activities we love.
I think by me going on my adventure I remembered that it was Patti having the adventure, not Patti with MS having an adventure. The cooling vest allows me to participate in activities that heat would prevent me from enjoying.
I will always use my cooling vest. It made my trip possible. If I can handle 115 degrees F with your cooling vest, I can go anywhere.
Thanks again. Your product has made a difference in my life.
SUPPLIED FROM OUR USA MANUFACTURERS
Patti – 06/01/2013
---
Cool hats in Kokoda
A big thank you from our porters for the great donation of the Adventurer Cool Hats for us to give to the porters assisting us on our walk along the Kokoda Track. When I handed the hats out on our first morning on the Kokoda Track, the smiles on the faces were as big as the brims on the hats !
Our porters immediately put on their head gear and proudly wore them through the heat and the rain of the jungle on the first day.
When they were not wearing them, you could see them proudly hanging from their packs ready to put on when you came out of the jungle and into the hot sun.
The hats acted as a beacon as you could easily see them through the jungle. These glimpses of orange meant you were on the right track.
I wore my 2009 cool hat and of course the incredible cool tie, which again kept me cool when traipsing through the steamy and extremely hot 8 day trek across the Owen Stanley ranges in Papua New Guinea.
I cannot thank Kathie enough for her kind donation in supplying the hats to our porters who are rarely given anything new, and in particular the Cool Hats, which made their trek a lot easier.
On the last day my porter, Leonard, proudly donned his hat and walked out to the end memorial at Owen's corner with Kathie's cool hat proudly atop his head for all to see.
I am sure these hats will see many treks across the mountains providing much needed sun protection and offering a cool neck to make the porter's task in carrying the heavy packs, a more comfortable journey.
Thank you Kathie for your continued support and supply of cool products.
Jenny – 04/12/2012
---
Brilliant hats for out Sailing !
This cool hat is amazing!
I have been racing yachts in Lake Macquarie for the past 3 summer seasons and the cool gel hat, SunGuards for sun protection, and neck tie coolers are brilliant on those days when it is hot, the breeze is light and you are going nowhere fast.
Just wet the gel bits and keep cool in the fridge or freezer . I also like the neck protection flap on the hat that you can reveal when required to protect the back of your neck.
Why has not anyone thought of this before?
Vicki – 01/12/2012
---
This is the best hat in the world !
Following on from our chance meeting and discussion at Tamworth Country Music Festival, I wish to thank you for your design and manufacture of what I consider to be, the coolest and best sun preventative hat on the market.
With the knowledge we have today about harmful sunrays, I believe we all have the opportunity to do something about it. Over the years I have spent the majority of my working and leisure life in the outdoors, wearing an Army Slouch Hat, Mining Helmet and Golf Hat. All were extremely hot as they did not let my natural body heat escape from my head.
In 2010 a chance shopping spree led me to enter the Cancer Council Shop at Westfield Kotara in Newcastle. I walked out 10 minutes later with which turned out to be the best, coolest hat I have ever placed on my head.
In April of 2010 along with a group of friends we ventured to Vietnam. On packing my luggage I found I could screw up the hat, throw it in the case and away I went. On arrival I pulled out the hat. Hey presto ! Back into shape. I fully endorse the design and find that it gives great sun protection, is extremely cool to wear and by just rinsing in water is easy to maintain.
I cannot speak highly enough of your hats and if you wish you may use my name to endorse you product, feel free to do so.
Ray – 30/10/2012
---
My cleaners and chefs got great relief
Working in 35+ heat in summer in western NSW, my chefs and housemaids really appreciated the relief these 'cool' collars provided.
Christine – 30/10/2012
---
The Coolers help my son with Ectodermal Dysplasia
Thank you to the Personal Cooling Products team for providing Cool Snake Neck Tie Coolers for all the families at this year's OZ ED camp.
Due to the inability of people affected by Ectodermal Dysplasia to regulate their body temperature, the neck tie coolers provide relief from the heat.
My son is very active and finds it hard to cool down during the summer months without the help of cooling products. He is comfortable and happy whilst wearing the neck tie cooler.
Victoria – 09/10/2012
---
Coolest Hat ever !
I live in Albuquerque New Mexico, USA.
I received one of your Cool Hats, with a Cool Pad, as a gift from a friend in Australia.
I absolutely love it ! Fits perfectly, keeps me cool and is everything I need in the dry heat of the Southwest.
I'll be ordering a Cool Hat with Cool Pad for my granddaughter, who just loves my hat. She goes hiking in the Sandia Mountains, just minutes from where we live, and there's nothing like your hat for coolness.
Ilonka Nakhleh
Ilonka – 23/06/2012
---
Community Care workers are cool while they work
Just thought you would like to know how wonderful the neck ties are proving for our Community Care Staff. We are centred on the Far North Coast of NSW and Southern QLD.
The temperature is regularly in the mid 30's, with very high humidity.
We distributed 50 Cool Snake neck tie coolers to our staff, who are making good use of them each day.
We have suggested that our older clients may also benefit from their use. We thought you may like to use this photo of our nurse, Joan, using her tie and our recommendation for your product.
With thanks for your great idea.
Lorraine Melling
United Protestant Association of NSW
Programme Manager
Community Services
North Coast NSW
Lorraine – 04/05/2012
---
Tamworth City women bowlers have a cool winning secret !
>Here are some of the Tamworth City women bowlers in our new Cool Hats. We bought these in January for the coming District Pennant Competition, which is played February and March when it is usually so hot and dry with temps up to 40C.
I especially have found the hat to be a great asset with the Cooling Pad, which I freeze the night before and take with me in the chiller bag in the morning. Once the heat creeps into the day, I pop the Cool Pad into the crown of the hat and this keeps me much cooler. I also have a spare Cool Pad, which I also freeze, and have this on hand on really hot days to replace the first Cool Pad used.
The hat provides excellent shade to the whole face, whilst being so light and very comfy. The adjustable string for all sizes works well for me, as I have a small head. I have also found the adjustable head tie to work well, as we played some games in the wind and, whilst other hats were blown away, mine was secure.
Carol Brice
Hon Secretary
Tamworth City Women's Bowling Club
Carol – 20/03/2012
---
My job is now so much easier.
I work outdoors and therefore, wearing a hat is a must. In 2009, I was issued with an Akubra hat. As good as the hat is, it did not give me the protection from the sun that I required. In the summer, I perspire, which becomes quite a nuisance. I tried wearing various head bands, but the look just was not right.
In January 2011, I found Cool Hats, and purchased their Adventurers Cool Hat. I now have the protection I need to stop my neck from burning. I still perspire, but this does not cause me anymore problems, as the terry towelling sweat band does its job.
I now feel a lot cooler when I am at work, which helps relieve a lot of stress.
Simon Guest
Parking Officer, Tamworth Regional City Council
Simon – 04/03/2012
---
Bandanna Mumma loves her cooler !
Just sending a picture of myself in my cooler to thank you so much.
I purchased a Cool Snake neck tie cooler before my last Bali trip because it is so hot in Bali, and I suffer from the heat since I am going through menopause.
The Cool Snake neck tie was a god send ! As you can see, I not only wore it around my neck, but also as a bandanna. My family nicknamed me "Bandanna Mumma" Lol !
I am going to Bali again so have ordered more for this trip in different colours.
This is a fantastic product ! Thank you once again.
Debbie – 29/02/2012
---
Mansfield Council, Victoria used Cool Snakes for their Heatwave Program
I just wanted to take this opportunity to thank you for your fantastic service and delivery of a great product. Working within the aged and disability sector, we are constantly looking for ways to assist our clients to lead more comfortable independent lives.
As part of our Heatwave Program, we purchased Cool Snake Neck Tie Coolers for all our clients and our community care workers. The feedback has been terrific.
Some comments included-
"I can sit on the verandah on a hot day in comfort with me neck cooler on." Moyhu : 90 years old
"I was amazed at the difference it made when I was delivering home care on those hot summer days." Rochelle : Community Care Worker.
Your neck ties are well made and have been a great hit !
Thanks again,
Anne Brogan
Team Leader
Aged and Disablity Services Mansfield Shire Council.
*** Personal Cooling Products has a copy of this letter which can be sent for verification***
Anne – 21/02/2012
---
Berwick Braves Softball Club
We would like to thank you for providing us with the Cool Snake Neck Tie Coolers for our Softball Club.
They have been a huge success with the hot weather we have been experiencing, and have made playing in the heat much more bearable.
We are sending a team of girls to Canberra next month to play and they will all be wearing the neck coolers which is fantastic…and will give them a definite advantage over the other players !
One of our girls works as a Tech for Holden and has sold over 30 to her team of Mechanics which has made working in the hot workshops a lot more comfortable for them.
Kind regards
Helen Milton
Berwick Braves Softball Club
Helen – 05/02/2012
---
Arabian Horse Show
At the Arabian Horse Feature Show, we were concerned to reduce heat stress with everyone concerned, so we chose to put Cool Snake Neck Coolers into every exhibitors pack. The coolers went down really well !
We had 38 degrees on the second day so everyone was wearing them. The judges and workers thought they were brilliant and I had requests for more. Because we had the coolers in different colours, people were asking me to co-ordinate with their outfits ! At least the boys were all happy getting black.
The Cool Hat Cool Pads were also a hit inside our equestrian helmets.
It was a great idea and thank you for making them available at the price you did.
Katherine McMahon – Show Secretary
The Arabian Horse Promotional Association of Victoria
Katherine – 09/01/2012
---
Thanks for the fabulous customer service !
A long time ago I used the neck tie coolers and when I had them no more, I thought I would try to find them again. I had gone to a few shops and even tried the supermarkets, but nothing: just ice block freezer things to keep food cold.
I thought I would try a google search and to my surprise came across what I was after. I clicked onto www.coolhats.com.au and got as much detail as I could.
As I have disabilities I find some things hard to do on the internet so I was very encouraged when I had an email from Kathie, the supplier of Cool Hats and Neck Tie Coolers, who had gone out of her way to post the information I was requesting. It made my heart melt and I felt so blessed that I was catered for and was able to do the order the way it suited me best.
I will now be able to keep cool over the summer months thanks to Kathie at Cool Hats and Neck Tie Coolers.
I'II be sure to keep updated with all the latest news on Cool Hats, so I can help the environment and keep cool as well !
Kylie – 04/01/2012
---
Perfect gift idea !
I have enjoyed reading your newsletter at the end of a busy week in Melbourne, feeling like I joined you on your holiday with such great photos.
I wanted to let you know that when I last purchased some Neck Tie Coolers, it was for Christmas presents in 2009/2010. I got them for my daughter's school to give them in particular to the PE teacher, the Tennis coach and the School Head Groundsman who often helps me in my role at the school.
They were as a thank you. I also got the lime green for my cleaner because it matched her uniform, and a white one for my own daughter for tennis.
They are a small but thoughtful gift for those around you who help all year, and who often work in the heat of an Australian summer, while some of us are indoors in the air-conditioning.
The recipients of the Neck Tie Coolers are touched, intrigued and grateful once they are wet! Well done !
Bronwyn – 12/12/2011
---
You helped me have the best adventure in Egypt. Thanks !
In June 2010 I had the trip of a lifetime with work to Egypt, Israel and Jordan.
I was so excited but conscious of how hot it was going to be at that time of year. I purchased both a Cool Snake and a Cool Hat prior to leaving, and they made my trip!
I was helping to keep the group together, and moving along, so I was always last back on the bus.
It was 38 degrees on the Giza Plateau, cooler in Israel: but still 35 degrees in the desert region, and a hot and windy 42 degrees in Petra.
As you can see from my photo (I am on the right) I am blonde with pale skin and I go bright red. But, both the Cool Hat and Cool Snake, enabled me to have the adventure of a life time ! Thanks !
Fiona – 11/12/2011
---
Nigel Ruck – Landscaper
My cool hat is the most comfortable hat I have worn. The wide brim is perfect for shading the sun, and the cool pad really works in hot weather. The terry towelling sweat band is a winner for comfort, and the hat looks great too!
These hats are the go when you?re outdoors, and I love mine so much I even wear it indoors!
For the really hot days the neck tie is sensational especially if left in the freezer or in the esky before use. It helps cool down the blood and lower body temperature. I find both the hat and neck tie particularly handy when working hard in the garden on a hot day after a few too many the night before. They just help to cool down the brain.
Nigel – 16/10/2011
---
As a sports coach, your products are invaluable !
I was introduced to Cool Hats last year and haven't stopped wearing one since! I spend an inordinate amount of time in the sun with my job as a sports coach and also as the scorer for my son's cricket team, and found the Cool Hat not only extremely comfortable to wear, but aptly named, as it is very cool, allowing complete airflow over the top of the head whilst still protecting the face and neck from the sun.
Those terrible 40 degree summer days were much more bearable thanks to Cool Hats!
Juanita – 26/05/2011
---
Brilliant products for the Kokoda Track
In 2009, after a battle with bowel cancer, I walked the Kokoda Track with my brother Wayne, and nephew Trent. It
was my lucky day while at the Tamworth Music Festival I came across Cool Hats and Neck Tie Coolers and purchased the Cool Hats and Neck Ties Coolers.
These turned out to be the best purchases made for the trek. The weather was hot, but every day we had torrential rain. The Neck Tie Coolers came in handy keeping us cool, but also stopping the rain from running down our backs.
The hats were brilliant: light weight to carry and wear, and cool even we forgot to put the cooler insert in. We left a
hat and tie with each of our porters so that they could keep cool when making their many treks each year.
I?m off to do Kokoda again and will be organising Cool Hats and Neck Tie Coolers for all the trekkers. I recommend them
to anyone, be it on an adventure, or a walk around the park.
Jenny – 31/03/2011
---
Great hat for on the water !
Just wanted to let you know how much I love my cool hat. I am on the water lots, yet suffer no reflection glare thanks to the green under the brim of my hat.
It stays put in the wind. I like the fact that I can use both the cord and the back tightener to make it real secure.
Being a redhead and subject to burning, the wide brim protects my whole face, neck and shoulders.
It is so cooling and light I hardly know I have a hat on.
Out boating or fishing, I throw an extra cool pad in and swap them over so I can stay out for ages.
Best of all, I give it heaps and just toss it anywhere when I get home. When I go get it, it bounces back into shape and off I go.
Thanks for a great hat.
Scott – 26/02/2011
---
What a difference your products make to my productivity
I operate a small business, Blades of Grass – Lawn Mowing, Window Cleaning & More.
I have been using your Neck Tie Coolers for 2 years. What a difference it has made to our productivity during hot summer days. Since using the Neck Tie Coolers I have not had any heat stress headaches, and my body temperature is kept cooler. At night I freeze 2 or 3 coolers and in the morning place them in my esky and rotate them during the day as required. Absolutely brilliant!!
Now, thanks to your ingenuity, I am using the Best Outdoors Hats with cooling pads as well. I also have purchased Neck Tie Coolers & an Outdoors hat for my staff as well. I consider your products as an Occupational Health & Safety necessity.
We have had our business name embroidered onto the hats, and are the coolest lawn mowers on the Fleurieu Peninsula !
Thank you so very much.
John – 30/10/2010
---
Perfect hat for travelling
Thank you so much Kathie for suggesting I take your Cool Hats with us on our recent holiday in Sri Lanka. We took several over with us and all our relatives wanted to wear them in the 40 – 45 degree heat we were living in.
This product is certainly something that more people should take in their travel bag, especially when travelling with children. They worked a treat to keep them cooler and no sunburnt noses!!
What a wonderful product you have. I would certainly recommend it to everyone.
Gold Coast, Australia
Debbie – 30/10/2010
---
Have been telling everyone about your cool products !
Am loving your cool snake during our heat wave especially on Australia Day when I was working, doing Temporary Tattoos, in the sun in the 42 degree heat!!! I had told you
I thought my brother bought one of these years ago at Tamworth Country Music.
Would you believe it ? I found my brothers old necktie, the one which I said was very good one, and it turned out it was one of your products, a cool snake as well!
It was in a bag, with your packaging and had your photo and I thought that was such a big coincidence.
Have talked to many people and they are looking to get your products and I would like to now order one of your Cool Hats for my Mum's friend, just like my Mum bought from you.
Alex – 12/08/2010
---
Cannot believe how good these Cool Snakes are
Dear Ken & Kathie
Just used the Neck Tie Cooler for the first time. 40oC here in New Mexico today. Unbelievable that such a slim "snake" can produce such a fabulous cooling feeling, with no drips or bulkiness.
Thank you !"
Diana – 18/06/2010
---
Cannot live without my Cool Hat !
My hat goes on first thing in the morning and stays on all day without me even being aware that it is on my head.
The wide brim provides all the protection I need for my face and neck.
And cleaning is as easy as throwing it in the washing machine.
I would recommend these hats to anyone who spends a lot of time in the direct sun.
Paul – 26/04/2010
---
Absolute best way to fundraise
We used the fantastic neck tie coolers for our Student Representatives Council Fund Raising Day and it was a great success! Not only did we raise one of the highest amounts we've ever raised at Deepdene Primary School, but we all kept cool in summer as well!
All proceeds went towards SchoolAid's appeal to help Haiti. We were one of the top donators for this cause !
Thanks so much for making our event so special and memorable.
Prep/SRC Teacher
Deepdene Primary School
Victoria
Wendy – 17/04/2010
---
Harley Owners share their thoughts on the coolers
Comments from attendees at the Western Australian Harley Owners Group State Rally in Augusta in 2010.
"Kept me cool in 37+ degree temperatures in summer. Great Product"
Cally Arrita, Secretary Harley Owners Group, Perth Chapter
"I've been looking for something like this since coming to Australia from Canada.
Really effective product"
Rod Arrieta, Assistant Director Harley Owners Group, Perth Chapter
"Hi Barney, Just a quick note to thank you for all your efforts in putting together what was a very successful State Rally at Augusta. I was very impressed with the rally pack and in particular the cool tie. As you are aware it was quite a hot weekend and the ride home was an endurance test.
I found the cool tie stayed cool for several hours and because it was tied around my neck it kept the blood flowing to my head and definitely a noticeable difference in helmet comfort.
It is a shame that the organisers of the national rally in Tasmania had not had the same idea as it would have made the 50degree trip back across the Nullarbor a lot more pleasant.
For all you macho boys out there riding in your tee shirts here are a couple of tips for staying cool on those hot rides.
Grab your cool tie, it does work!
You will never see an Arab in the desert with a tee shirt on. Keep your jacket on, wet the inside lining and sleeves, open the cuffs and allow the breeze to blow in! You now have your own evaporative air conditioning.
Thanks Again Barney.
Regards,
Dave – 28/02/2010
---
Grey Nomads: these are the best !
I was lucky enough to be given two "Neck Coolers" by Kathie when we met at Mattaranka, in the Northern Territory. These "Neck Coolers" came in handy while we were caravaning around Australia.
Coming from the Queensland heat, to the extreme heat of the Territory, Western Australia and South Australia these ties were used every day.
After meeting Kathy by chance again in Tamworth, my friend Kay and I both decided to purchase a "Super Cool Hat" and another "Neck Cooler".
We would both recommend both these products to all, to play sport and for casual wear. There are many colours to choose from.
Thanks again Kathy.
Patricia – 13/01/2010
---
I had to eat my words after these coolers saved me at a music festival..
After many years of hearing, but not actually believing, these neck tie coolers actually cooled you down, my awakening came in the form of an unbelievable hot festive day at this year's Mudgee Day on the Green.
Basking in the November sun with my neck tie cooler on, I was in heaven:
great music, great company and I was so cool and refreshed.
Get your self one !
I now have quite a few piled in the fridge ready for tennis
or for my children to use to beat the heat.
Regards,
Christine – 17/11/2009
---
This cooler has pride of place in my bike pannier
Dear Ken & Kathie
Thank you for the opportunity to road test the Necktie Cooler on my recent motorcycle trip to Phillip Island for the GP races. We travelled approx 3000kms on the trip with two days of wet weather from Sydney to Phillip Island, so no opportunity to try the cooler there. At the races Phillip Island was its usual freezing self so again no opportunity to try it out.
On our return via The Great Ocean Road, Warrnambool, Grampians & Swan Hill we hit some very hot weather in the region of 35 deg C. I soaked the Necktie cooler in water at a pub in Penshurst and was surprised to see the way it soaked up the water and expanded. The result was amazing, with the wind constantly against the cooler around my neck I felt cool and comfortable.
I used it through to Swan Hill where temperatures got up to 38 deg C; we then travelled across to Deniliquin and Albury with temperatures ranging from 30 deg C to 38 deg C and I took several opportunities to re soak the cooler and it worked a treat.
It now has pride of place in my pannier bag; I won't leave home without it.
Thanks,
Bruce – 21/10/2009
---
My late father got such relief from your coolers.
My name is Mark Jenner and I was born and bred in a small town called Barraba NSW, which is 100km?s north of Tamworth. After moving away and interstate, I have always come home back home with my wife, my 19 year old son and my 2 year old daughter, and finally bought a house in Tamworth.
About 7 or 8 years ago, my wife and I went for a walk up Peel Stret Tamworth, as it was Country Music Festival time. It was a very hot day and we came across a stall that sold Neck Tie Coolers and Cool Hats which I purchased one of each straight away and put it on there and then. It cooled me down in only a matter of minutes and I felt better for having it on.
Each year at Festival time the only time I go over the street is to catch up with the same friendly couple every year.
In February 2005, my late father was given 4 to 6 months to live with cancer. From the day he was diagnosed with this nasty disease he stayed in the comfort of my house until he took his last breath on May 10, 2005 as he did not want to die in hospital. I can honestly tell you that nearing his end with high temps, as he could not take oral medication, and suppositories were very little comfort to him, my Dad found comfort and relief very quickly from the Neck Tie Cooler.
Now he has passed, every time I have my particular blue neck tie cooler on (which is the one my Dad used to wear) the memories come back.
I am honestly not just giving you readers a sob story. Just keep
your eye out for this great Aussie product and just try one. I Can
guarantee you will not be disappointed. Also, finally this great
product supports cancer research into that very nasty cruel
unforgiving demoralising cancer.
PS I love you Dad.
Regards,
Mark – 17/10/2009
Every Equestrian should have these.
I really think everyone MUST learn about these neck ties & hat pads! This is the very best thing that I have ever used in all my riding years! & I have been in the saddle since I was 4 years old!
I have used the neck tie last summer for the 1st time, & I also used a hat pad in my riding helmet. Well! I could NOT believe how much difference they made! In fact I felt very cruel when I kept riding my Dressage horse through a very hot day; got carried away with the training because a felt so comfortable, only to notice my horse had got extremely hot! I had forgotten how hot the day was! I had to get off & hose him down! Now I am very aware not to overwork him when I ride with my coolers on!
The other thing is; when I have some stock work to do, I wear my coolers, in the hat & around my neck, & when I feel them losing their effect after a few hours, I stop & dump them in the creek, swing them around like a billy tea to cool them down even more, put them back on, & my neck & head immediately freezes again
Ahhh… excellent!
I DO know the coolers work; hat?s why I will continue to
let everybody know about them. They just don?t know what
they are missing if they don?t wear them!
Have a cool day,
Bibi – 29/10/2008