Description
Sun Protection Sleeves – Chill Sleeves
Christmas Special – $15.00 for Hi Viz Yellow / Hi Viz Orange and $25.00 for Black / Royal Blue / Nude / White (Normally $35.00)
Perfect way to protect your arm from the harmful UV lights and keep you cooling at the same time.
Available Colours: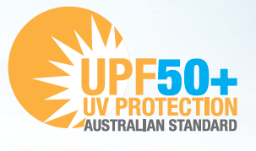 Cools and acts as arm protection sleeves while you work, play or relax because they are made from a proprietary performance fabric that's designed to create a cooling effect that instantly cools, refreshes and comforts skin — all without the use of chemicals! Because it works without chemicals, it will never wear out, and it won't irritate sensitive skin. Wet the Chill Sleeves so that the moisture spreads evenly throughout the fabric. Then, the product's unique weave, coupled with "pinging" the sleeves to activate them, circulates airflow to cool the fabric. The weave also regulates evaporation, which keeps the sleeves cool for hours.

Arm protection sleeves are worn by athletes around the world… now it is your turn… but with added cool !
Wearing Chill Sleeves feels like having an air conditioning system wrapped around your arms. Douse the cooling sleeves with cold water, then snap them, and they chill right down as a result of the fabric technology that they are constructed from. This performance fabric absorbs and retains sweat and water, then circulates the water molecules, while regulating the rate of evaporation. This delivers an instant cooling effect on the skin.
When the arm protection sleeves dry out, squirt some more water on them. It is that simple and super-refreshing. If you are working out hard, the Chill Sleeve quickly becomes soaked with sweat, and starts working.
The Chill Sleeve is vented to maximise breathability. Wear the vented section under your arm.
Wearing Chill Sleeves feels like not wearing anything at all… except your arms will feel cooler and protected…
Often worn with short sleeve shirts, Chill Sleeve arm coolers are lightweight arm cooling sleeves designed to protect from heat and sun while you engage in outdoor activities like building, basketball, netball, tennis, mowing, cycling, fishing, triathlon training, softball, baseball, jogging, golfing, driving the car, bowling, kayaking and more. You can also use the Chill Sleeves indoors: at the gym, doing the housework, cooking, cleaning, Pilates, yoga, working at the computer.
Crumpled-up, the Chill Sleeves will easily and conveniently fit into the smallest of pockets.
Chill Sleeves stay up with the gentle hold of elasticised bands.
Our cooling arm sleeves offer SPF 50 protection.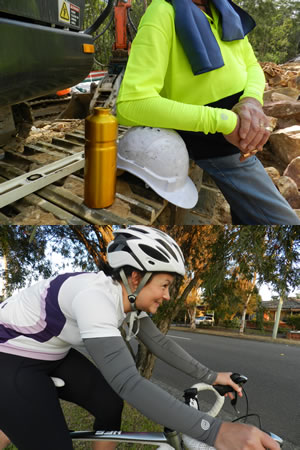 Features:
SPF 50+ protects your arms from aging and sun.
Instant cooling effect when wet.
Lightweight and chemical free.
Requires no refrigeration.
Reusable.
Can be machine washed with detergent.
But do not use fabric softener.
Unisex.
Sizes:
Chill Sleeves, cooling arm protection sleeves, come in a pair.
S (41.5cm long with 26cm arm opening at top)
M (43.3cm long with 28cm arm opening at top)
L (46.5cm long with 33.5cm arm opening at top)
Care:
Machine wash cold with like colours.
Do not iron. Do not bleach. No fabric softeners.
Tumble dry on low. Line or airdry after each use.
Colours:
Hi Viz Yellow / Hi Viz Orange / Black / Royal Blue / Nude / White